City Shuttle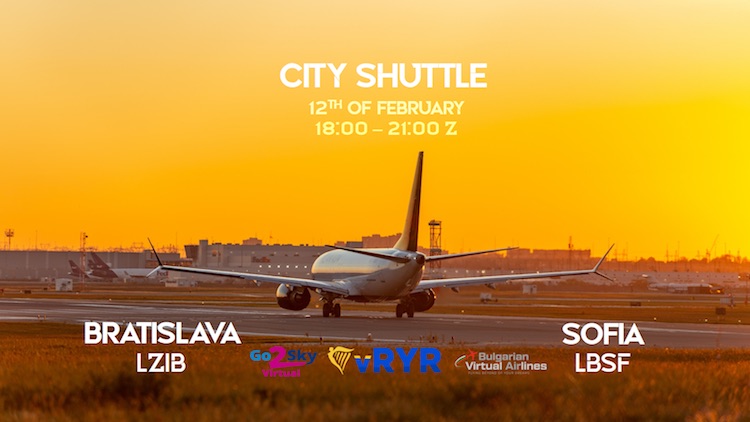 Dear pilots, we invite you to event between Bratislava and Sofia organized by VACC Slovakia and VACC Bulgarian. The partners of this event are Go2Sky Virtual ,vRYR and Bulgarian Virtual Airlines. the event will take place on February 12th, 18 to 21z.
About this event:
-Starting event from 18z to 21z at date of 12th of February
-Full ATC coverage between two airports
-Event Partner:
-vRYR: https://vryr.eu/
-Go2Sky Virtual: https://go2skyvirtual.weebly.com/
-Bulgarian Virtual Airlines https://bulvirtualairlines.org/
For sceneries and charts, visit:
-vACC Slovakia: http://vacc-slovakia.sk/
-BGvACC: https://bgvacc.com/
LZIB LBSF: VAMOG DCT BABIT DCT RAVAK DCT NISVA
LBSF LZIB: OGOTA T228 UTEKA DCT DONIV DCT PARAK DCT BALUX DCT BODZA DCT XOMBA
Slovakia Online Day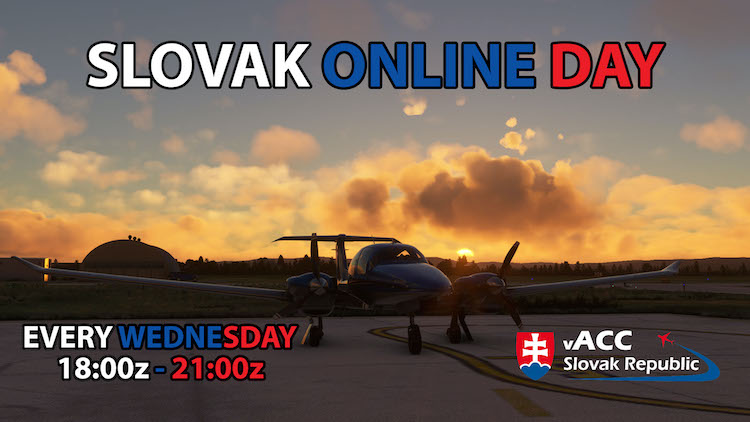 Welcome in the Slovak Online Day happening every single Wednesday! You can expect whole Slovakia online! Bratislava Mr Štefánik, Poprad Tatry and Košice will be online. You will met friendly controllers, 100% ATC coverage over Slovakia and we don't care, if it's IFR or VFR, everyone is welcome! So grab your winter pilot jackets and let's go flying in this snow filled beautiful country!
About this Slovak Online Day:
-Starting from 18:00z to 21:00z every Wednesday
-Full ATC coverage in Slovakia
-Friendly Slovak controllers will take you safely to your destination.
For Charts, visit http://vacc-slovakia.sk
See you in there @everyone!
Slovak Training Day
Do you want to train, test your skills, learn something new? This Training Day will for sure help you be a professional!
Welcome all to the Slovak Training Day starting on requests by our colleagues and every Monday to help you and our Air Traffic Controllers learn all the required skills. If you're not sure, what to do in some cases when flying, you can learn all the important information on this event. If you're a well experienced pilot and you want to help our colleagues, then your help will be very appreciated! All types of flights (VFR, IFR, SVFR) are welcome!
About Slovak Training Day:
-Starting on requests
-Every Monday
-Trainee ATC's covering Slovak airspaces
-Friendly Slovak controllers will take you safely to your destinations
To see all the traffic requests, go to vACC Slovak Discord and traffic-request For sceneries and charts, visit http://vacc-slovakia.sk/ To see all ATC bookings, visit http://vacc-slovakia.sk/ and the booking page will be on the left.
See you in there !
If you would like to organise an event with us, or request ATC coverage for your events, do not hesitate and contact our event coordinator by sending an e-mail to ACCSK5.